Reskote T-Guard
PROTECTION OF STEAM LINES AGAINST CORROSION AT SEA
Reskote T-Guard protects deck steam lines, steam valve manifolds and windlass steam chests from the destructive and costly effects of corrosion
Reskote T-guard withstands higher temperatures up to 225°C for longer periods than any similar product and even proved to be effective on inert gas scrubber inlet elbows and expansion bellows
Reskote T-Guard, when applied to cold surfaces, will skin over and be dry to touch within 6 to 8 hours after applying.
packing: 18 Kg pail
Availability: ARA Range, Kiel Canal
Additional information
Downloads
PROPERTIES
| | | |
| --- | --- | --- |
| Density at 20°C | 0.9 kg/l | |
| Physical state | Liquid | |
| Storage | Protect from sunlight. Do not expose to temperatures exceeding 50 °C. | |
| Solubility in water | | |
| | | |
APPLICATION OF USE
Surface Preparation :
Scrape off loose rust and flaking paint, chip off large rust deposits, sweep or blow with compressed air to remove loose rust and dirt particles, wipe oily deposits off with thinner and ensure that surfaces are thoroughly dry.
Application:Simply brush on at 1 to 1,5 millimeters thickness. After application, allow minimum of 24 hours curing at ambient temperature before putting steam on line. Allow approximately one third pail for each set of windlass steam chests. To determine the approximate number of pails required for pipe lines, use following formula :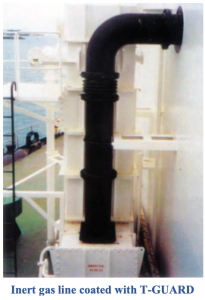 SAFETY ASPECTS
Consult the Material Safety Datasheet
Medical Emergency information in case of poisoning: Poison Information Center Mainz – 24h –Phone: +49 (0) 6131 19240 (advisory service in German or English language)
Protect from sunlight. Do not expose to temperatures exceeding 50 °C.